You've seen us talk about our tips and tricks for making your moving day a breeze, but do you have the perfect moving day playlist to get through the day?
Whether you're moving to a new home a few blocks away, or venturing interstate, moving is not the easiest task. We always say that it's important to have steps in place to ensure your moving day goes smoothly. One of our biggest tips is to keep the mood high to avoid stress.

To help with that, we've curated the perfect moving day playlist to get you through the process.
Keep reading to find the perfect playlist for your moving journey.
Why you should have a moving day playlist
Whatever your personal taste in music is, we can all agree that the power of music can help balance feelings of anger, stress, sadness and more.
Music has multiple mental health benefits regardless of whether you are singing along or just listening. It affects your brain and releases endorphins that improve your sense of wellbeing, while also lowering your heart rate and cortisol levels.
It has also been scientifically proven that listening to music can help to manage and reduce stress levels. So if you've ever used music as a form of meditation, pain relief, and therapy – there's a good reason why!
We understand that sometimes moving can be quite emotional, and we're here to help. If you're looking for a team of removalists that bend over backwards to make your move easier, get in touch with us today.
Whether you've hired a removalist company to help you with your load, or if you're tackling the big move yourself, here are our top tunes to add to your moving day playlist.
Songs for packing the house
Need a hit of energy? Some pump-up music to help with motivation? We got you!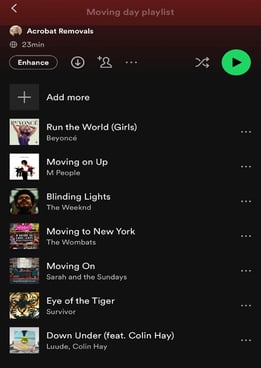 We've curated our top songs for packing up your home or office, to ensure the vibes stay high.
Did you know we also offer pre-packing services?
So, if packing boxes is a task you don't enjoy, and always put off, leave it with us.
Songs for packing the house
Now this is the fun part. The truck is loaded with your belongings, and you're in your car driving to your new home or home. You have no worries because you know your belongings are in safe hands.
Your pumped up to be in your new space, and you need the perfect songs to get you to your destination. Here are our top picks: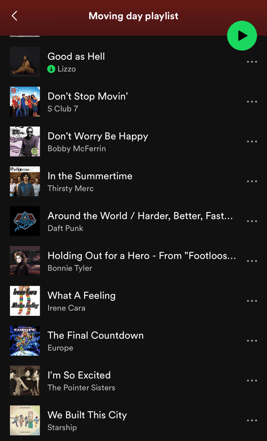 Our very own Removalist Driver's favourite song to listen to in the truck is Shake It Off by Taylor Swift!
Taking the stress out of your moving day
No matter what you listen to on your moving day, we're here to take the stress out of moving.
Get in touch with us today to get a free quote.